What's up with the dancing? . .Well. . .We has just heard the news. . .SHARE & CARE CHILDCARE has received the TOP 75 CHILDCARE BLOG AWARD. . .Were we surprised? . .You bet! With a little Googling, we realized it must be true. . .So we all started dancing. . .
The AWARD is from FEEDSPOT (a popular RSS Feed Reader). . .and was based on:
Google Reputation and Google Search Ranking
Influence and Popularity on Facebook, Twitter and Social Media Sites
Quality and Consistency of Post
Feedspot's Editorial Team and Expert Review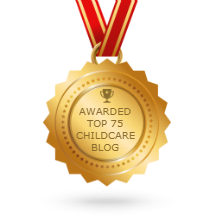 Here's the LINK to
FEEDSPOT'S TOP 75 CHILDCARE BLOGS
Thanks to the folks at Feedspot.